Southern Africa Travel


We crossed 13500 km in South Africa, Namibia, Zimbabwe ( Victoria Falls ) and Botswana.
Illustrated by a Journal Travel, beautiful photos and videos, our journey is detailed step by step.
To prepare your travel, guides and councils are at your disposal for every country visited.
You will find road maps, accommodations, rent a car, plane tickets, the climate, the fauna, the national parks and many informations. Popular places visited:
Etosha, Kruger Park, Desert of Namib, the Fish River Canyon (Hobas et Ai-ais), Victoria Falls, The Blyde River Canyon, Epupa Falls, our meeting with Himba people , Bushmens

Many of the other magic places of the Southern Africa.
Map of Southern Africa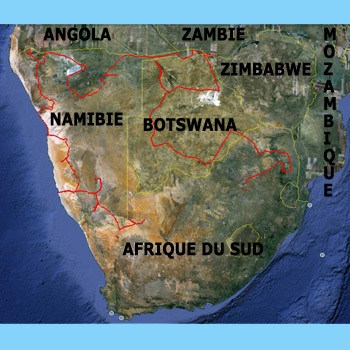 Southern Africa begins in the South of the African equatorial forest. The African islands of the southwest of the Indian Ocean around Madagascar are also a part of Southern Africa

The peoples of Southern Africa be affected by the European colonization. The economy of Southern Africa is relatively strong, especially thanks to South Africa. Southern Africa is constituted by the following countries:
South Africa, Angola, Botswana, Comoros, Lesotho, Madagascar, Malawi, Mozambique, Namibia, Swaziland, Zambia, Zimbabwe.
Southern Africa (SADC) includes Tanzania and Democratic Republic of the Congo.